Connecting Downtown Page: A CPAT Experience in Arizona
"Under pressure!
...
It's the terror of knowing what the world is about
Watching some good friends screaming
'Let me out!'
Pray tomorrow gets me higher
Pressure on people, people on streets
...
This is ourselves under pressure
Under pressure
Pressure"
David Bowie and Freddie Mercury might as well have been talking about a Community Planning Assistance Team (CPAT) effort when they wrote the epic song "Under Pressure." While everyone knows the song, most people may not realize this song (which is epic, right?) was created by Bowie proposing a mashup before mashups were a thing.
You see, Bowie insisted that he and Freddie Mercury record their own improvisational parts separately only to compile them together in edit (as reported in Far Out Magazine).
Now you might be wondering, "What does this epic song have to do with the APA's CPAT program?" It has everything to do with it.
Scene: It was December 2018, in Page, Arizona where the CPAT effort was under way. A mashup of volunteer planning professionals from around the country was ready to get down to work. From all parts of the country, we were wowed by the natural (and, yes, epic) beauty and opportunity of this magnificent town setting. Even though I reside in Arizona, the Phoenix metro has little in common with the scene in Page. We humbly submitted ourselves to the context of this unique place of gorgeous views and people with strong community ties.
Like the meeting of the brilliant minds of David Bowie and Freddie Mercury, we would soon meet the newly mashed-up leaders of Page to get a sense of their views and desires for Page.
As it turns out, they were under pressure.
A new mayor, freshly elected on a platform promising a bold new vision, was working with a newly-hired open-minded city manager to implement that vision. Together, they knew it involved breathing life into the center of Page, to energize business prospects, support its local economy, and highlight the sense of community where ties ran as deep as roots of the high desert cacti.
The CPAT volunteer team would mash up those ideas with the ideas from the community. We planners would mash up our own ideas based on the strengths and opportunities we could identify within Page proper. It was clear that people from around the world were finding their way to Page, but may have been overlooking the town itself for the spectacular natural views and geology. Rather than visitors just passing by, they could be enjoying inspired dinners, artisan coffee, and the people and place of Page.
For the vision to become reality, the people of Page would need to appreciate that a designed space for their visitors was mutually beneficial. Would they agree that benefits for visiting people offer the same benefits to the residents of Page?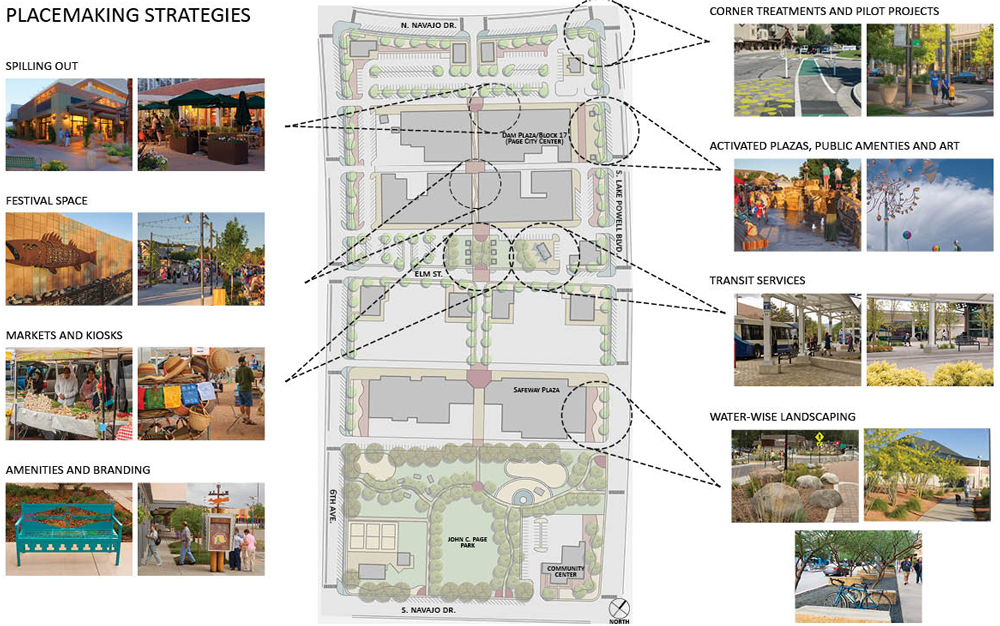 Only time and the diligent work of placemaking will be able to answer that question. The new mashup of Page leaders can now begin utilizing the team's recommendation outlined in the final report. In it is a translation of their own ideas, mixed with best practices, applicable guidance, and reference materials, to serve as a modest beginning of something much bigger.
Page has all the makings of connecting its natural and town assets to be epic.
Top image: Detail of Antelope Canyon, which is a short trip from downtown Page, Arizona.
---
About the Author
Ryan Wozniak, AICP
Ryan Wozniak is a planner for the growing city of Maricopa, Arizona.
---
May 24, 2019
By Andre Wozniak, AICP
---
---