Scenes from NPC22: Together Again
Thanks for being a part of NPC22!
Nearly 5,000 attendees were part of NPC22, either in person in San Diego, or online. See where attendees were from and what they enjoyed about NPC22.
This year's keynote speakers challenged attendees to engage communities differently and approach change with a different mindset.
"When we go to school for architecture or any design field, a lot of minority students they come into those fields, they have to check their culture at the door."

— Hip Hop Architect Michael Ford, AIA, NOMA, opening keynote speaker.
"The pace of change has never been as fast as it is today, and yet, it is likely to never again be this slow."
— April Rinne, closing keynote speaker.
Keep the learning going by accessing NPC22 sessions
---
---
NPC22 Online
May 18 –20, 2022
Another 2,000 attendees from around the country logged in to NPC22 Online, May 18–20. The second of two unique conference offerings this year that brought CM-eligible sessions, networking, and career-focused development directly to attendees — regardless of their location.
Daily Mix n' Meet sessions brought together attendees and offered a virtual spin on the "bumping into someone." Resume clinics helped put the final polish for those attendees looking for their next opportunity.
---
"All-In" in San Diego
April 29–May 3, 2022
More than 3,000 planners from around the country, and even the globe, came to San Diego for the first in-person National Planning Conference in three years. The four-day conference had the convention center buzzing from reconnecting with colleagues to exploring solutions for the challenges facing communities. Check out below how attendees experienced NPC22.
Reunited Community
Attendees were able to connect in-person to share updates, reunite with colleagues, and continue to learn from each other.
Expanding Knowledge
Educational opportunities included sessions, mobile workshops, speed share sessions, and events held in the Career Center.
Advocacy
From discussing new policies to engaging elected and appointed officials, attendees dove into advocacy.
Credential
AICP Certification empowers planners to make an impact in their communities by verifying their expertise and providing an ethical foundation for planning.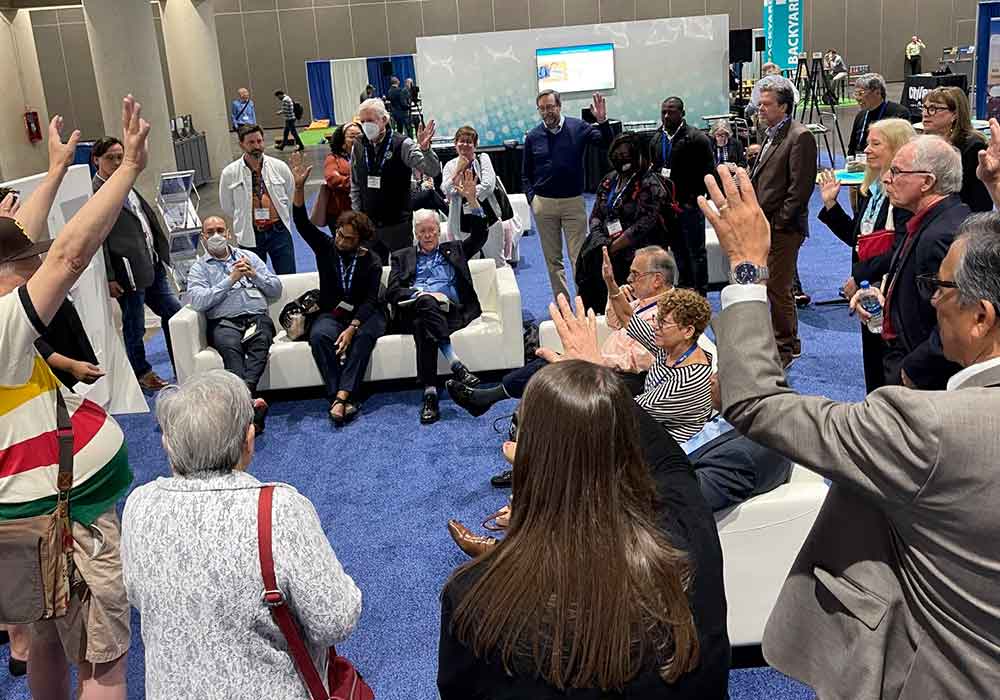 Well, that's officially a wrap for #NPC22! A huge Thank You to all who joined us online these past three days and in San Diego a few weeks ago. What a blast it has been bringing our community together!

We can't wait to see you next year for #NPC23 in Philadelphia! pic.twitter.com/xblOquUxTk

— American Planning Association (@APA_Planning) May 20, 2022
Access NPC22 Sessions
Passport
Attendees to the "All-In" in-person conference and online conference have full access to online program through the end of May 2022. Continue your learning for the next year with a subscription to Passport and access select in-person and all the online NPC22 sessions.
Top Image: Photos by Hoffman Photography. Banner image created by Susan Deegan.
---
About the author
Roberta Rewers is APA's communications manager.
---
May 4, 2022
By Roberta Rewers
---
---