Project Background
Platted in the 1960s, Wakulla Gardens is an extremely dense residential subdivision in the rural county of Wakulla. Wakulla County is a coastal county located in the eastern panhandle of Florida, directly south of Tallahassee. Once rural with small fishing and farming communities, the county is now one of the fastest growing counties in the state. Between 2000 and 2010, Wakulla County's population increased 35 percent and now numbers over 30,000.
Sixty percent of the working population commutes to Tallahassee for employment. Wakulla County has five overplatted subdivisions that were created in the 1950s and 1960s. These developments were part of land scams that were never intended to be developed.
Wakulla Gardens was one of these land scams with nearly 4,000 lots that measure 50 feet wide by 100 feet deep. Originally platted between the years of 1961 and 1965 by the Panacea Development Corporation, lots were sold at county fairs across the United States by real estate speculators promising a retirement haven in beautiful Wakulla County. Wakulla Gardens is generally characterized by its dense hardwood forest.
There are known wetlands in the development and only 2,500 of the lots are considered buildable because of flooding issues. The area lacks essential infrastructure such as water, sewerage, paved roads and stormwater management. Though 25 percent of the lots are built out, Wakulla Gardens continues to develop. Impassable roads, flooded homes and septic tanks, and contaminated ground water are among the many problems that residents face. Current estimates for retrofitting Wakulla Gardens with water, sewer, stormwater management and paved roads is more than $34 million.
The initial residential development of Wakulla Gardens was relatively slow. In recent years, local contractors purchased tax deeds and began to heavily develop the subdivision. During Florida's recent building boom, the tiny lots in Wakulla Gardens were marketed as a low-cost suburban alternative to Tallahassee. Although most plots have no public utilities other than electricity, the conditions of the unpaved roads are of greatest concern to most subdivision residents. When it rains, the unpaved roads became muddy and deeply rutted, and even impassable at places.
In 2005, the area suffered a large storm, which washed out many of the roads and made the area eligible for FEMA funding for improvements. The limestone gravel that was placed over the unpaved roads improved flooding issues, but because of the recent drought has exacerbated dust issues in the area. Most residents only want the immediate road problems to be ameliorated, rather than comprehensive infrastructure improvements.
Wakulla Gardens: Retrofit Challenge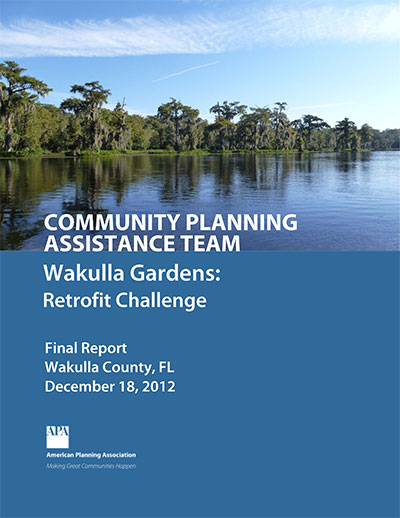 Community Planning Assistance Team Report
Platted in the 1960s, Wakulla Gardens is a dense residential subdivision in the rural, but rapidly growing Wakulla County in the panhandle of Florida. The subdivision lacks essential infrastructure, including water, sewer, paved roads, and stormwater management.
Project Updates
September 2012
The Team arrived in Wakulla County on Saturday, September 8 and started off with a site visit of Wakulla Gardens with the County Planning Staff. Over the next three days they held two community drop in meetings, which were well attended by residents and other concerned citizens. The Team also met with key stakeholders from both the public and private sector. The Team then worked to create new ideas to solve the large issues in Wakulla Gardens, trying to prioritize challenges, look for new funding, and to lay out an implementation strategy. The culmination of the work was a presentation on Tuesday, September 11 to the public. The Team presented their ideas for funding key infrastructure projects and targeting community organization among other strategies. The meeting was well attended and the public and County Commission look forward to the final report.
May 21, 2012
Team Leader Stephanie M. Tillerson, AICP, and APA Senior Program Associate Thomas Bassett visited Wakulla County to see the project site and have initial meetings with various stakeholders. They saw various areas of Wakulla Gardens, which was set in a thick forest and off an main highway. The county is extremely rural, and Wakulla Gardens is very underdeveloped, seeing the road and stormwater issues. They were able to meet with the County Planning Staff, many of the County Commissioners as well as the Public Works Department. That evening they were able to attend a County Commission meeting where Wakulla Gardens was discussed. The Commission approved a survey of the subdivision's residents to assess the willingness of an additional assessment to fund road pavement. The results of the survey will be very integral to the CPAT project's focus. Most residents that spoke were in favor of the additional assessment, while the Public Works Department highlighted the need for additional services and would like to propose an additional assessment for that funding.
Meet the Team
---
Team Leader
Stephanie M. Tillerson, AICP
Stephanie is currently the City Manager for the City of Woodruff, South Carolina, where she is a strong advocate for smart codes, sustainable growth policies, and bikeable and walkable communities. She is a member of the Urban Land Institute, where she co-chaired the "Next Steps" Committee at the 2009 South Carolina Upstate Region Reality Check and has participated in two Technical Assistance Panels. She is very involved in her community, where she is President of the Junior League of Spartanburg and sits on the USC Upstate Foundation's Board of Directors and the Chamber of Commerce Economic Futures Group, as well as a number of other commitments. Stephanie is also the past recipient of the Upstate Forever's Public Servant of the Year Award.
---
Team Member
Douglas Martin, AICP
Douglas has worked for municipal and county government in Northeastern Illinois for 15 years. Currently, he is the Deputy City Administrator for the City of McHenry, IL, where he has been employed for the last 11 years. Douglas is responsible for all planning, zoning and economic development activities in the City. He is also responsible for oversight of the City's Construction and Neighborhood Services Department, which includes property maintenance and administrative adjudication. Douglas has past experience working with tax increment financing districts and reviewing fiscal impact analyses. He has also worked with subdivisions to discuss sanitary sewage systems. Douglas holds a Master's Degree in Urban Planning and Policy from the University of Illinois at Chicago.
---
Team Member
Darren J. Asper, AICP
Darren Asper provides clients of Delta Development Group expertise in various areas of planning, disaster preparedness, and economic development. As Senior Vice President, Darren leads a growing and diverse team of experts in economic and community planning, funding strategy development, market analysis, facilitation, disaster preparedness solutions, and higher education consulting. Darren's efforts have led to recognition by the Pennsylvania Planning Association for "Outstanding Community Initiative." Recently he has been conducting environmental modeling, housing studies, and capital improvement planning for communities affected by the Act 13 Impact Fee in the Marcellus Shale. He was named a Central Pennsylvania "Top 40 under 40" business leader in 2005.
---
Team Member
David Berg, AICP
David Berg has been a land use planner and environmental analyst for Cameron Engineering for over 14 years. He has studied degraded estuaries and recommended watershed land use changes to restore estuarine water quality. David has developed low impact site plans, including designs and specifications incorporating green stormwater management, environmental restoration, and open space preservation. He has prepared land use plans that incorporate smart growth principles to redevelop older suburbs into communities where people of mixed incomes and ages can live, work, and play in a pedestrian-friendly environment. David is the former Director of the Long Island chapter of the APA and a founding board member of Vision Long Island, a non-profit that promotes smart growth and livable communities.
---