Using Main Streets As a Tool for Revitalization in DC
December 13, 2016
Based on the idea that a strong Main Street is a reflection of strong community, the Main Streets approach focuses on preservation-based economic development and community revitalization. The DC Main Streets Program launched in 2002 and serves as a coordinating program, providing support for 10 non-profit Main Streets organizations representing commercial corridors in DC.
Shaw Main Streets has been a DC Main Streets local program since 2003. In 2016, it won the 2016 Great American Main Street Award for its success in bringing nearly $3 billion in private and public investment to the neighborhood, attracting and supporting over 250 new businesses, adding thousands of new residents in new market rate and affordable housing, and doing so without the type of displacement of low and moderate income families that often accompanies revitalization.
Cristina Amoruso's presentation focused on DC Main Streets' role in revitalizing the city's historic commercial corridors; she discussed best practices and lessons learned as well as case studies. Alexander Padro shared some of the successes Shaw Main Streets has achieved and strategies they've used to lead an equitable urban revitalization effort.
---
Speaker
Cristina Amoruso
Cristina Amoruso is the DC Main Streets program coordinator who promotes the revitalization of the city's historic commercial corridors by showcasing its unique characteristics. Previously she worked in architecture and preservation planning, and in neighborhood revitalization. Amoruso holds degrees from the University of Houston, the University of Miami, and from Columbia University. She is an advocate for livable and walkable communities, the importance of maintaining a unique sense of place, and the need to focus on small and local businesses. In her spare time she likes to garden, cook, take long walks and to do whatever puts a smile on her daughter's face.
---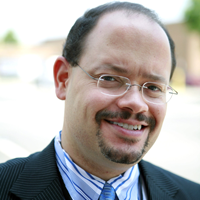 Speaker
Alexander M. Padro
Alexander M. Padro is a Washington, D.C., commercial revitalization professional and elected official. He is the executive director of Shaw Main Streets, the historic preservation and commercial revitalization nonprofit organization serving the Shaw neighborhood's 7th and 9th Street corridors. He is one of the creators of the Clean + Safe Team concept, which hires and trains ex-offenders to maintain public space. Padro has also been an elected Advisory Neighborhood Commissioner representing Shaw since 2001. He is vice chair of Advisory Neighborhood Commission 6E, and is a board chair or board member of several Shaw and citywide nonprofit organizations.
---