Reflection for Radical Planners
Reflective Planning Practice: Theory, Cases, and Methods suggests ways that planners can be more reflective about their practice. The book offers a framework for planning reflection based on:
personal commitments, understandings, and values
the context for the planning episode
the use of logic, emotion, convention, and invention in making those judgments
Seven case studies illustrate how planners make the practical judgments that are inherent in professional practice.
The framework draws on planning theory and my own experience as a transportation planner in government and consulting positions. The book includes cases that address mainstream planning practice and advocacy planning concerning inclusionary zoning, international resiliency planning, and a program for healthy food in inner-city corner stores.
Recently, I was asked whether radical planners might adopt different reflective frameworks. These planners are exposing and dismantling structural racism, replacing equity-blind market mechanisms and regressive public finance with redistributive programs, fixing bias in models and regulatory procedures, organizing and empowering communities, and creating new models of community-based collaboration and action.
The short answer is yes, radical planners will undoubtedly find other reflection frameworks useful.
More than other professional fields, planners draw upon a wide variety of paradigms, theories, and practices. I hope that many reflection frameworks emerge so that we can compare them and become a more reflective profession.
Reflection can occur in after-the-fact assessments, as in case studies, and on-the-fly in the urgency of the moment.
Here are some ideas about how the book's framework can serve radical planners. First, while some types of reflection may lead to passivity or narcissistic indulgence, I don't mean navel-gazing. In my view, reflection serves to clarify purposes and develop strategic actions.
A key aspect of the planner-as-person element is reflexivity. Reflexivity is "finding strategies to question our own attitudes, theories-in-use, values, assumptions, prejudices, and habitual actions; to understand our complex roles with others."
To this list, I add recognizing individual privilege and pain. Adopting reflexive habits can, for example, help the radical planner collaborate more powerfully.
Planners who use their understanding of context to adapt to existing institutional practices and power relationships take an inherently conservative approach. Indeed, some radical planners may believe that the context for many planning episodes must be purged and replaced, rather than be deeply considered.
My view is that a commitment to understanding the nuances of context does not mean accommodating it or being co-opted by it. Understanding context can help radical planners formulate effective strategic action.
Lastly, the framework elements of logic, emotion, convention, and invention support radical planners' decisions about processes, engagement with others, and the content of initiatives.
An example in the logic/emotion realm is that emotions associated with moral outrage and anger at injustice can fuel involvement, organization, coalition formation, and action. But in some situations, logic may be the best approach. For example, an advocacy planner may use logic to convince a resistant city council to support affordable housing because damaging lawsuits might result if a state affordable housing mandate is ignored.
Normally, radical planning is thought of as relying primarily on invention – creating new forms of engagement, organization, planning, and implementation. But convention might also guide practical judgments, such as drawing on community customs of mutual aid, self-help, and traditional ways of knowing.
Planning reflection benefits both mainstream and radical planners. We may indeed have different frameworks and perspectives on strategy. Let's talk about them, learn from one another, share our reflections, and form new coalitions of reflective mainstream and radical planners. I hope you will join me in a renewed commitment to reflection on our practices.
Resources
Bolton, Gillie, with Russell Delderfield. 2018. Reflective Practice: Writing and Professional Development, Fifth Edition. Thousand Oaks, Calif.: Sage Publications Inc.
Read previous installments of this blog series, "A Guide for the Idealist." This blog series is amplified in Richard Willson's books, Reflective Planning Practice: Theory, Cases and Methods, and A Guide for the Idealist: How to Launch and Navigate Your Planning Career. The books include frameworks, case studies, reflective methods, advice, and personal anecdotes. They are available now at Routledge, Amazon, and most retailers.
Top image: Community residents participate in a Healthy Food Fair offered in partnership with a corner store participating in the Detroit FRESH program in 2011. Photo by Kami Pothukuchi, PhD. Used with permission.
---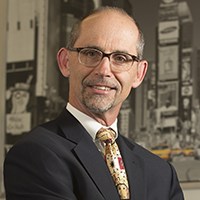 About the Author
Richard Willson, FAICP
Richard Willson, FAICP, is a professor in the Department of Urban and Regional Planning at Cal Poly Pomona. He has also served as department chair, interim dean, and independent planning consultant. Willson's research addresses planning practice and parking policy. His books, Reflective Planning Practice (2021) and A Guide for the Idealist: How to Launch and Navigate Your Planning Career (2018), amplify the themes in this blog series. Willson is also the author of Parking Reform Made Easy (2013) and Parking Management for Smart Growth (2015). Willson holds a PhD in urban planning from the University of California, Los Angeles, a Master of Planning from the University of Southern California, and a Bachelor of Environmental Studies from the University of Waterloo.
---
January 15, 2021
By Richard Willson, FAICP
---
---