Student Representatives Council
The Student Representatives Council (SRC) is one of the three APA components. The SRC is composed of Planning Student Organizations (PSO) representatives and its executive committee.
The vision of the SRC is to improve the world by elevating diverse students and emerging planners.
---
2022 Student Representatives Council Executive Committee
The SRC executive committee leads the SRC, helping to shape APA's policies that influence student issues. The executive committee advises the APA Board of Directors on the best interests and needs of student and young professional membership.
The executive committee members serve for two years in their respected seats. After the term is expired, the committee invites all APA students to submit nominations for the leadership positions through the APA elections process.
Not quite sure what region your in? View the APA Electoral Regions map.
SRC Executive Committee Roles & Responsibilities
---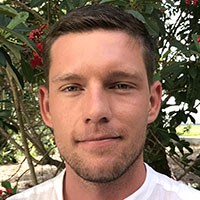 Chair
Kohl Malo, AICP
Kohl Malo is a transportation-land use planner working in Arlington, Virginia. As the SRC chair, he leads the council to improve opportunities for a diverse group of students and emerging planners. The SRC highlights student excellence and creates student creativity and long-term success platforms. Kohl looks forward to pushing the SRC forward by creating new, effective partnerships within APA. Kohl earned his graduate degree in urban and regional planning from Florida State University. He is a proud "Null," having received his undergraduate degree in political science and urban studies from New College of Florida. Term of office: January 2022–December 2023.
---
Region I
Jarrodd Davis
Jarrodd is a Philadelphia-based affordable housing developer whose work spans Pennsylvania, Georgia, Texas, Tennessee, Alabama, and the US Virgin Islands where he has secured more than $15 million in competitive financing. He completed a Master of City Planning degree at the University of Pennsylvania and bachelor's degree at Virginia Tech. Jarrodd is a passionate advocate for more responsible development practices informed by communities, work he furthers through writing about people, places, and the politics that shape them.  Term of office: January 2021–December 2022.
---
Region II
Bianca Mers
Bianca Mers is a Master of City and Regional Planning student at the Georgia Institute of Technology. She is interested in land use, zoning and accessibility. Her research focuses on transit rider demographics and satisfaction. Bianca is the President of the Georgia Tech Student Planning Association (SPA), which advocates for and supports students' personal, professional, and academic well-being. Outside of school, Bianca enjoys cooking, gardening, and taking long walks. She is a native of Marietta (Georgia), but is excited to move to Philadelphia after she graduates in May 2022. Term of office: January 2022–December 2023.
---
Region III
Felicia Hutchinson
Felicia Hutchinson currently works as a Planner while completing her graduate degree in Urban and Regional Planning at Florida Atlantic University. She is interested in art, Black life in Victorian England, and urban development in Africa and the Caribbean. For her thesis, she is studying suicide prevention in urban planning and architecture, and hopes to pursue doctoral studies in the future. Term of office: January 2022–December 2023.
---
Region IV
Isabel V. Soberal
Isabel Soberal is a Michigan native and a recent graduate of Grand Valley State University's Department of Geography and Sustainable Planning. She graduated with degrees in Geography and Spanish. Isabel currently works at Gibbs Planning Group to learn about processes related to urban planning and design. As the Region IV representative, Isabel is excited to facilitate education and preparation for planning students across the nation through a socially just and responsible lens. Term of office: January 2022–December 2023.
---
Region V
Kevin Luzong, AICP
Kevin is a recent graduate from the University of British Columbia in Vancouver, where he received his Master of Community and Regional Planning degree with a concentration in transportation planning. He was born and raised in New York City and currently lives in San Francisco, where he works on Uber's transit team and focuses on transit agency partnerships. His interests include public transit, new mobility, and sustainability. As the SRC Region V representative, he is eager to advocate for planning students and support student-led initiatives across the states and provinces that make up the electoral region. Term of office: January 2021–December 2022.
---
Region VI
Muhammad Nazmus Sadat
Muhammad Nazmus Sadat your new international student representative from Bangladesh. He is an enthusiastic planning minded person who wants to make a difference among planning students all over the world. He is a graduate of Urban and Regional Planning from Pabna University of Science and Technology (PUST), Bangladesh; he loves to use technology (GIS, Remote Sensing, coding etc.) in planning. He is an APA student member since 2017 and now wants to spread planning concepts for achieving SDGs and also wants to integrate planning students around the globe. Term of office: January 2021–December 2022.
---
Past Chair
Veronica Escalera- Ibarra
Veronica Escalera-Ibarra is a San Antonio native and second year master's student at the University of Texas at San Antonio in Urban and Regional Planning. She hopes her future planning pursuits expand an understanding of real estate development and land use law to create sustainable and equitable planning projects. Term of office: January 2022–December 2023.
---