Everyday Destinations
Activating Communities Using Pop-Up Designs
Planning Approaches to Encourage Physical Activity in Small and Rural Communities
This blog post is part of the Everyday Destinations series, which focuses on increasing physical activity in small and rural communities through everyday destinations.
---
Pop-up designs and activations use a "do-it-yourself" approach to temporarily transform public space to meet one or more community goals, such as safer streets or increased opportunities for social interaction.
Also known as tactical urbanism, demonstration projects, or quick builds, this approach helps communities reimagine how public spaces can be adapted to create new destinations. Examples include temporarily converting parking spaces into parklets and using alleys for community events. Planning for pop-up designs and activations consists of multiple steps, including engaging community members, building demonstration projects, and if applicable, hosting events. This approach can create a network of temporary destinations in underused spaces, which communities can permanently install if demonstrations are successful.
Equity Considerations
Pop-up designs and activations are successful when diverse community members are engaged in the process from beginning to end, including implementation of the final design. Community engagement ensures that the pop-up designs and activations relate to local priorities and needs.
Without authentic public engagement, pop-up designs may feel imposed on a community. An equitable pop-up implementation process provides opportunities to co-create with residents, address community needs, and integrate resident knowledge (Wilson 2020).
Pop-up installments can incorporate design principles that welcome all community members, including participants who are deaf, have low vision, or use a wheelchair. Culturally sensitive projects can ensure that pop-up events benefit all community members, including racial and ethnic groups with different needs and priorities.
Organizers can also encourage greater participation by integrating educational components, such as conversations about the purpose of the project and its benefits for the community. Sharing materials that connect temporary projects with overall community vision and well-being can increase community members' support.
Connection to Small and Rural Towns
Pop-up designs can test ideas with minimal costs, meaning that they can be applied in rural and small communities with limited funding. Moreover, since they are quick to build and temporary, pop-up designs are less regulated and easier to implement than permanent projects.
This approach can engage community members to envision how they may use public space for different purposes while paying close attention to preserving community character, which may be a priority in small and rural towns. Communities interested in reshaping public space can do so with limited risk, as pop-up organizers can remove installations after a brief period (Mahar 2016, Project for Public Spaces n.d.). Pop-up designs can create an interactive environment that encourages community members to design new destinations that are connected to other everyday destinations.
Case Example: Bethel, Vermont
Bethel, Vermont, is a small town that experienced a shrinking town core after the local primary industry, stone quarries and mills, began to experience a decline. The Bethel Revitalization Initiative hosted a temporary space activation event called "Bethel Better Block" to bring community members together and encourage economic activity. The two-day event included multiple pop-ups in the downtown area led by community members and partners (Walljasper 2019).
This inclusive process began with community members talking about community assets and their needs. After identifying community insights, the project team selected three priorities (traffic calming, safety, and streetscapes; quality of life and community building; and economic opportunities) to create an activated block. The event incorporated inclusionary design principles, including a temporary multimodal lane that encouraged visitors to "walk, bicycle, push baby strollers, use a wheelchair or walker, or even ride a horse" (Stoddard Poor and Howard 2017). The event attracted people to a previously underused space called Blossom Block, where multiple pop-up vendors, sitting spaces, and traffic calming measures were in place to encourage visitors to explore the reimagined block. Long-term outcomes from the pop-up event included mixed-use developments, increased public transportation connectivity, and public art installations (Stoddard Poor and Howard 2017).
Strategic Points of Intervention
Practitioners have a variety of options to help their communities implement pop-up designs and activations. This section provides a non-exhaustive list of strategies that professionals with the ability to influence the built environment can use to improve access to everyday destinations. Collaboration between these professionals and public health is crucial as public health professionals can support planning approaches and engage partners but may not have the authority to implement some of the strategies identified below.
This blog encourages communication and engagement between public health and planners to discuss approaches that might be applicable in their community. For more information on the role of public health professionals in helping implement these strategies, click here. For more information on other partners that play a role in implementing the growth area identification approach, click here.
The following list of strategies can help professionals from different sectors come together and implement planning approaches that support a mix of accessible everyday destinations. Community engagement is crucial throughout every step of implementing the strategies below. Planners and public health professionals can collaborate to create equitable engagement to collect and act on community needs.
Communities should select strategies based on their context and constraints. The links at the end of actions provide more guidance materials and examples from small and rural towns across the country.
Plan Making
Identify places for pop-up demonstrations, such as main streets, neighborhoods, parks, and plazas using community insights. Events can be held in areas that need more destinations.
Encourage suitable and culturally sensitive pop-up projects in local plans as an implementation strategy to advance community goals. The Idaho Falls Downtown Master Plan includes tactical urbanism as a key initiative through three themes: placemaking, streetscape and landscape changes, and enhancing pedestrian areas.
Highlight the connection between temporary pop-up demonstrations and long-term changes. A plan can identify mechanisms, such as a strategy to pursue future funding opportunities, for converting a temporary installation to a more permanent community feature.
Regulations and Incentives
Encourage elected officials to adopt a temporary or special use ordinance that streamlines pop-up designs and activations.
Consider using a simple online permit application to create an avenue for community-led pop-up designs (Fayetteville n.d).
Public Investment
Provide technical assistance to help community organizations implement pop-up activities. This can be accomplished through a cultural affairs office or through collaboration with partners familiar with the requirements to implement local pop-up design and activation projects.
Share grant opportunities that support pop-up designs with community organizations and members and encourage them to pursue these opportunities for implementing temporary installations (Snellville n.d.).
Reduce expenses associated with pop-ups by creating a lending library of materials that can be used by the community members to host events.
Create resources to help build safer pop-up installations for everyone, including guidance to create quick-build parklets and pedestrian plazas that could encourage people to walk (Burlington 2018).
Demonstrate temporary installations, such as curb bump-outs, at existing community events to create local buy-in and understanding of how such measures improve access to local businesses, thus encouraging economic development (Walljasper 2019).
Potential Partnerships
Communities have active organizations, leaders, and professionals that can contribute to implementing the strategies provided in the previous section. Built environment and public health professionals should consider, and if applicable, reach out to the following groups to implement the adaptive reuse approach. These groups can also recommend other organizations that may be able to collaborate.
The following nonexhaustive list of partners offers potential starting points — there may be more partners to consider, depending on the community.
Involve community members to identify inclusive event ideas and co-create activations that represent community interests.
Connect with designers and artists to employ their technical expertise for implementing pop-up projects.
Bring in local institutions and community organizations to gather and implement ideas that temporarily reimagine public spaces.
Create partnerships with local businesses to reduce friction between temporary installations and business activities, particularly where these temporary installations may become permanent (Somerville 2015, Delaware Valley Regional Planning Commission 2014).
Connect with local fire and police departments to discuss safety requirements for pop-up designs when they take place in the right-of-way.
Partner with local organizations to secure materials that can be reused for multiple demonstration events and specify storage and lending processes.
We are interested in case examples that support physical activity through everyday destinations in communities with a population less than 20,000 people. If you are aware of such communities, please share their stories with us at activepeople@cdc.gov. By directing us to such articles you can help other small and rural communities become more active and healthier.
Everyday Destinations
Read this post and visit the Everyday Destinations project page for background information, additional context, and overarching considerations that support creating great communities for all.
References
Burlington (Vermont), City of. 2018. Quick Build Design + Material Standards. Burlington Public Works.
Delaware Valley Regional Planning Commission. 2014. The Pop-Up Economy: Municipal Implementation Tool #26.
Fayetteville (Arkansas), City of. n.d. "Tactical Urbanism Permit Application."
Mahar, Josh. 2016. "Tactical Urbanism: Applying a Big City Placemaking Technique to Smaller Communities." MRSC Blog, February 4.
Project for Public Spaces. n.d. "The Lighter, Quicker, Cheaper Transformation of Public Spaces."
Trailnet. 2016. "Benton Park West Utilizes Traffic Calming Lending Library." October 11.
Snellville (Georgia), City of. n.d. "Tactical Urbanism Program."
Somerville (Massachusetts), City of. 2015. "City's First Public Parklet Opens on Somerville Ave." August 2.
Stoddard Poor, Kelly, and Andrew Howard. 2017. "Pop-Up Project: Bethel Better Block." AARP Livable Communities.
Walljasper, Jay. 2019. "Getting Rural America Back on Its Feet." Planning, December.
Wilson, Kea. 2020. "Can Tactical Urbanism Be a Tool for Equity? A Conversation with Mike Lydon and Tony Garcia." Streetsblog USA, July 6.
Active People, Healthy Nation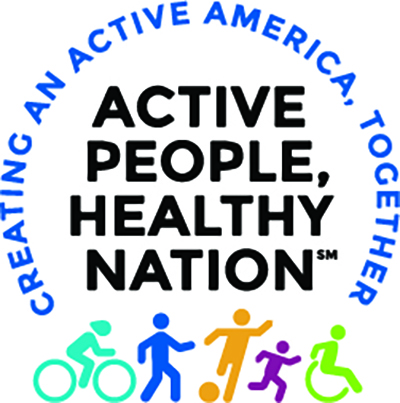 Active People, Healthy NationSM is a national initiative led by CDC to help 27 million Americans become more physically active by 2027. Increased physical activity can improve health, quality of life, and reduce health care costs.
Top Image: Elvert Barnes/flickr.com (CC by-SA
---
About the Authors
Jo Peña is a research associate with APA.
Sagar Shah is a planning and community health manager with APA.
---
December 21, 2021
By Johamary Pena, AICP, Sagar Shah, PhD, AICP
---
---