Visual Guide to Agrivoltaics and Wildlife-Friendly Solar
Many large-scale solar facilities operate on lands formerly in agricultural production. However, solar power production isn't inherently incompatible with agricultural activities. In fact, agrivoltaics — or the placement of a solar energy system on the same parcel of land as agricultural production — can help communities preserve local agricultural activities or heritage and capture clean energy benefits.
Beyond agrivoltaics, large-scale solar development can also expand or preserve wildlife habitat. For example, a growing number of solar facilities are incorporating native pollinator-friendly vegetation or providing wildlife-friendly fencing.
While some solar developers are embracing agrivoltaics or wildlife-friendly project designs, planners and local officials can promote more widespread adoption by updating local plans and zoning regulations to require or incentivize specific project types or features. The photos below illustrate how modest changes to facility design can expand the benefits of solar development.
Solar@Scale
Solar@Scale is a partnership between the International City/County Management Association (ICMA) and the American Planning Association (APA) that aims to help cities, towns, counties, and special districts understand and realize the potential benefits of large-scale solar development.
Have a question about Solar@Scale or want to share your experiences with planning and zoning for large-scale solar development? Contact solar@planning.org.
Solar Power and Crop Production
Both solar panels and crops benefit from colocation, depending on factors such as crop type and solar array configuration. Shading by solar panels can keep crops cool and reduce the need for watering, which is particularly helpful for dry areas with high heat.
Solar Power and Grazing
Grazing of some types of animals, such as sheep, rabbits, and cows, under solar panels is also possible. Grazing animals are helpful for carrying and spreading seeds in pollinator-friendly habitats. They can also reduce the need for vegetation management, and the movement of these animals can compact soil.
Solar Power and Wildlife Movement
Many large-scale solar facilities use fencing to control site access. With careful design, this fencing can minimize disruption to wildlife movement.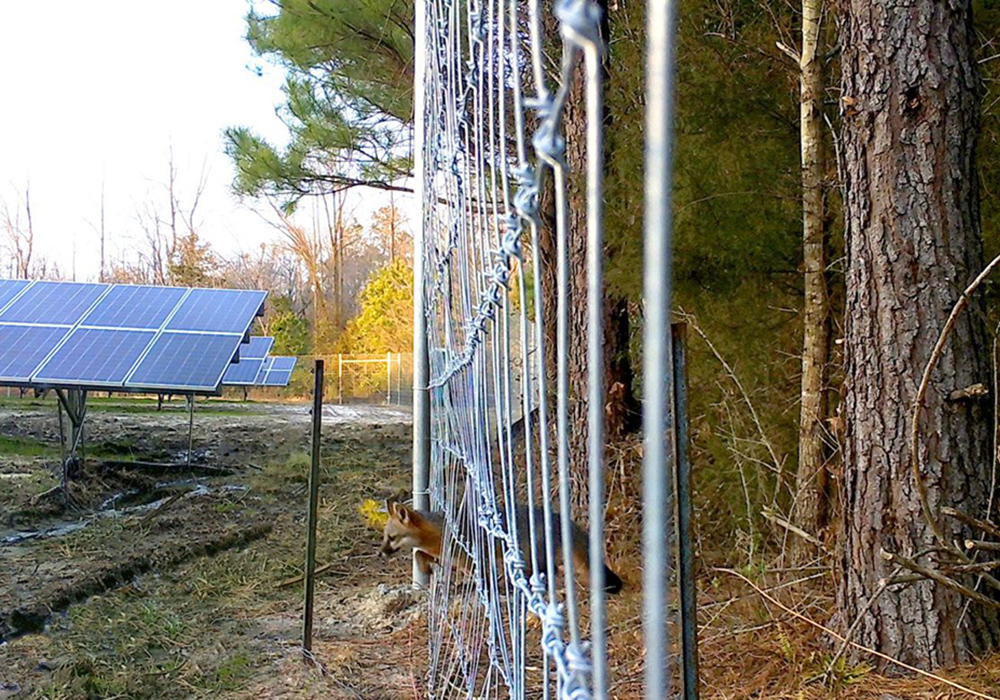 Pollinator-Friendly Solar
As a clean energy source, solar power is already providing environmental and ecological benefits to communities. However, solar projects can go one step further to restore local ecology and biodiversity by planting native vegetation that supports the local population of pollinators.
Conclusion
The examples above are far from exhaustive. The U.S. Department of Energy's InSPIRE project is actively tracking examples of agrivoltaic and ecologically beneficial projects across the country. Its Agrivoltaics Map already lists dozens of active projects, with large clusters in the upper Midwest and in the Northeast.
Just as agricultural activities vary from place to place, the combination of solar production and agriculture can also vary based on the size and type of the solar system, as well as the local flora, fauna, and landscape. Communities who want to maintain agricultural heritage or production while still benefiting from solar development can use local plans, regulations, and development partnerships to encourage or require design features that are low-impact and environmentally friendly to increase the value of these projects.
Top image: The Gold Tree Solar Farm at Cal Poly San Luis Obispo (AgriSolar Clearinghouse / Flickr (CC BY 2.0))
---
About the Authors
Alexsandra Gomez is a research associate with APA.
---
August 9, 2022
By Alexsandra Gomez
---
---