I'm an Underworked Planner and I'm Losing Heart
The last two posts discussed strategies for overworked planners. But that's not the case for everyone. What if a planner is underworked and losing inspiration?
First, let's consider why this might happen.
You are faster at tasks than the average planner.
The organization has a temporary logjam of expertise in your area. Assignments are spread around or go to those with the longest tenure.
Managers can't reassign work because of rigid or obsolete job descriptions, or competition between departments.
The work is there, but approvals, agreements, grants, or contracts are gummed up, preventing you from starting or causing a mid-course pause until decisions are worked out.
Your supervisor doesn't trust you to complete important tasks and steers assignments away from you.
A sign of underwork is your relationship to time: rather than seeking to slow down the clock so you can get more done by the end of the day, the underworked planner wants it to speed up so the day is over sooner.
A natural human reaction to underwork is to keep it quiet. Planners develop coping strategies and may disguise their underwork, such as participating in unnecessary or lengthy meetings. But over time, underwork can erode motivation and self-confidence. It can lead to an unprofessional attitude and poor performance. Later on, when a planner reflects back on their career, "avoided overwork" is not the best legacy.
The planner should seek to understand the reasons for underwork, such as distinguishing between temporary underwork and underwork as a long-term condition. If your supervisor doesn't trust you with certain assignments, for example, it is best to know that and take appropriate action. It could also mean you are about to be laid off or fired.
Here are some strategies for responding to underwork:
Ask your supervisor for formal and informal feedback on your performance.
If there are issues regarding reliability, skill, attention to detail, or getting along with others, take steps to address them.
Ask your supervisor for new assignments.
There is a natural reluctance to do this since underwork could quickly turn into overwork, but you shouldn't be underutilized at work over the long term. If you ask for new assignments your supervisor will take note of the initiative.
Ask your supervisor if you can be temporarily shared.
Can you work with other departments in your organization, or in consulting, shared with other offices?
Propose initiatives and special projects that add value to the work you do.
For example, a planner who writes staff reports could develop a flowchart of approval processes and facilitate work process improvements as part of an inter-departmental working group.
Propose new initiatives that reasonably relate to your work scope.
If you are in local government, listen to what council members and the city manager are dealing with and think of how you could help respond to problems or take advantage of opportunities. For example, you could apply for a grant that would fund technical studies that the city needs, such as preparing a climate action plan. If you are a consultant, you could offer to research a new business line or territory.
Use your lack of stress at work to carve out time to volunteer outside of work.
If underwork is combined with boring work, find an outlet outside work that is fulfilling.
Look for a new job in an organization that will take full advantage of your talents.
There isn't a necessarily a sweet spot between too much and not enough work — the inspiring planners I meet usually have too much on their plate. Some of them may dream of a few days of underwork, but in the long-term, fully engaging your talents is the most satisfying path.
Top image: Getty Images photo.
---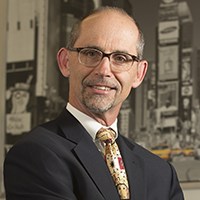 About the Author
Richard Willson, FAICP
Richard Willson, FAICP, is a professor in the Department of Urban and Regional Planning at Cal Poly Pomona. He has also served as department chair, interim dean, and independent planning consultant. Willson's research addresses planning practice and parking policy. His book, A Guide for the Idealist: How to Launch and Navigate Your Planning Career, amplifies the themes in this blog series. Willson is also the author of Parking Reform Made Easy (Island Press, 2013) and Parking Management for Smart Growth (2015). Willson holds a PhD in urban planning from the University of California, Los Angeles, a Master of Planning from the University of Southern California, and a Bachelor of Environmental Studies from the University of Waterloo.
---
October 16, 2018
By Richard Willson, FAICP
---
---