In Memoriam
In Memoriam: Guide for the Idealist Creator Rick Willson, FAICP
Earlier this week, Rick Willson, FAICP passed. He left his mark on the planning profession as a professor, consultant, author, artist, and lifelong mentor to many in the field.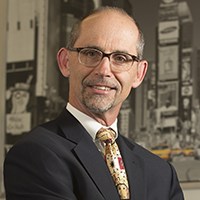 Willson was well known for his Guide for the Idealist blog series and books that focused both on reflective planning practice, while showing new planning professionals how to navigate their careers. His most recent book was Reflective Planning Practice: Theory, Cases, and Methods (Routledge 2021).
Willson's research has appeared in the Journal of Planning Education and Research, the Journal of the American Planning Association, Transportation, Regional Science and Urban Economics, and others. Prior to his academic career, he was a transportation planner for the City of Los Angeles Community Redevelopment Agency.
An expert in transit-oriented development and parking policy, he nonetheless taught a wide variety of courses and exercised wide interest in both undergraduate and graduate curricular development. An avid painter with wide-ranging interested, Dr. Willson engaged and mentored a generation of students and colleagues at Cal Poly Pomona.
Dr. Willson received a Bachelor of Environment Studies in Planning from the University of Waterloo, Ontario; a Master of Planning from the University of Southern California; and a PhD in Urban Planning from the University of California, Los Angeles. At Cal Poly Pomona, where he served as department chair for many years and interim dean of the Collage of Environmental Design, he was the recipient of the 2015 Provost Award for Excellence in Research and Creative Activity.
He leaves behind his wife, planner and economic development consultant Robin Scherr, and daughters Jenna and Maya.
A memorial service will be held Sunday, December 11 at Mount Sinai. The service will be live streamed and recorded for guests unable to attend.
In lieu of flowers, Rick's family invites donations to the Leukemia & Lymphoma Society; EcoAgriculture Partners; the Center for Reproductive Rights; and JDC.
tributes to Rick
Many in the planning community have been sharing how Willson helped inspire, mentor, and influence their respective planning careers. "It is certainly a sorrowful day for California planning," said APA California President Ashley Atkinson, AICP.
"He was a larger than life presence," said Gwen Urey, professor and current chair of the urban and regional planning program at Cal Poly Pomona. "His enthusiasm for innovating as a teacher along with his zest for engaging students in the theory and practice of planning energized all of us."
A sample of the tributes pouring in online include the following from LinkedIn:
"I will miss our collaboration and the way he helped me shape my thinking, my outlook, and my approach to planning. Idealism brought us together."
— Miguel Vazquez, AICP
---
"He was my professor who became my mentor, my thesis advisor who became my work colleague, and lastly a person I admired who became a great friend."
— Lyle Janicek, AICP
---
"You were so instrumental in my career and I learned to become the leader I am today, in all aspects of my life because of you."
— Jesus Navidad
---
"Educators with vibrant energy that Dr. [Wilson] brought to the classroom make a difference! I will always remember his energy and takes on planning topics. Many students of his including myself will put his teachings into practice, and that's something special."
— Angela Alvarez-Cendejas
---
"[He] leaves a huge mark on planning, and California planners in particular. His enthusiasm for the profession and passion for guiding young planners were defining characteristics that endeared him to so many."
— Emily Elliott, AICP
Launching Your Planning Career
Guide for the Idealist
Rick Willson collaborated with APA to write the Guide for the Idealist blog series that was eventually turned into a book. His guidance and legacy will continue through his writing that has helped many planners navigate their career.
Top image: Painting by Rick Willson, FAICP. Used with permission.
---
December 9, 2022
---
---