APA Remembers the Life of Lynn Jorgenson
APA Senior Leadership Associate Lynn Jorgenson died peacefully on September 18, 2020, after a short illness. She was a dedicated and valued member of the APA staff team for 21 years. We are thankful for her time with us, her contributions to our team and membership, and her calming and friendly presence.
Lynn was a friend to everyone who served on the Chapter Presidents Council and will be missed by the APA staff, leadership, and membership communities. She is survived by her son Jeffrey and daughter Samantha.
Lynn's family welcomes donations to the APA Foundation in her name as an expression of sympathy instead of flowers. The family will not be holding a memorial service.
Members and staff reflect on their interactions with Lynn below. Some condolences have been edited for length.
Former APA President
David M. Siegel, FAICP
I was so saddened to learn of Lynn's passing. During my two terms on APA's Board of Directors and subsequently as APA President, Lynn was a constant ray of light, knowledge, help and humor. Her assistance to the Chapter Presidents Council (and to me, when working with them) was vital and effective, facilitating their successes. You could always count on Lynn. I will miss our personal communications, her presence as one of the "constants" of APA, her work to help us "tell the planning story" more consistently and effectively, and especially her dedication and sense of humor. Lynn, thank you.
---
Former APA New York Upstate Chapter President
Mike Long
Very sorry to hear this news. Lynn was my primary point of contact when I served as New York Upstate Chapter President. Lynn helped us in so many ways,and;was a huge advocate to all our issues and coordination of events and activities with national APA. She will sorely be missed.
---
Former APA New York Metro Chapter President
Ethel Sheffer, FAICP
Lynn was a wonderful, dedicated, and effective staff member and representative of APA. In my six years as NY Metro Chapter President, I found her to be unfailingly professional, cordial, personable, and terrific. She was a fine person and a pleasure. My condolences to all at APA and to her family.
---
Former APA Louisiana Chapter President
Lydia Z. Jemison, AICP
I was shocked to hear of Lynn Jorgenson's recent death. When I was President of the APA Lousiana, I relied on Lynn to learn the business of APA and what I needed to do to better serve our membership. Lynn was vibrant, kind and always there for each and every one of us. The world is a colder place without her. May God bless her and grant her family and friends the strength to endure this loss.
---
APA Kansas Professional Development Officer
Bonnie Johnson, FAICP
So very sad about Lynn's passing. She was always there for us at the chapter level, especially us Professional Development Officers. I asked for her assistance so regularly that I never had to put her into my contacts because I could always search for "Jorgenson" find an old email, use it to create a new email, and ask my question. AND she always had the answer! Was wonderful to see her smile every year at the National Planning Conference. Remembering her so fondly.
---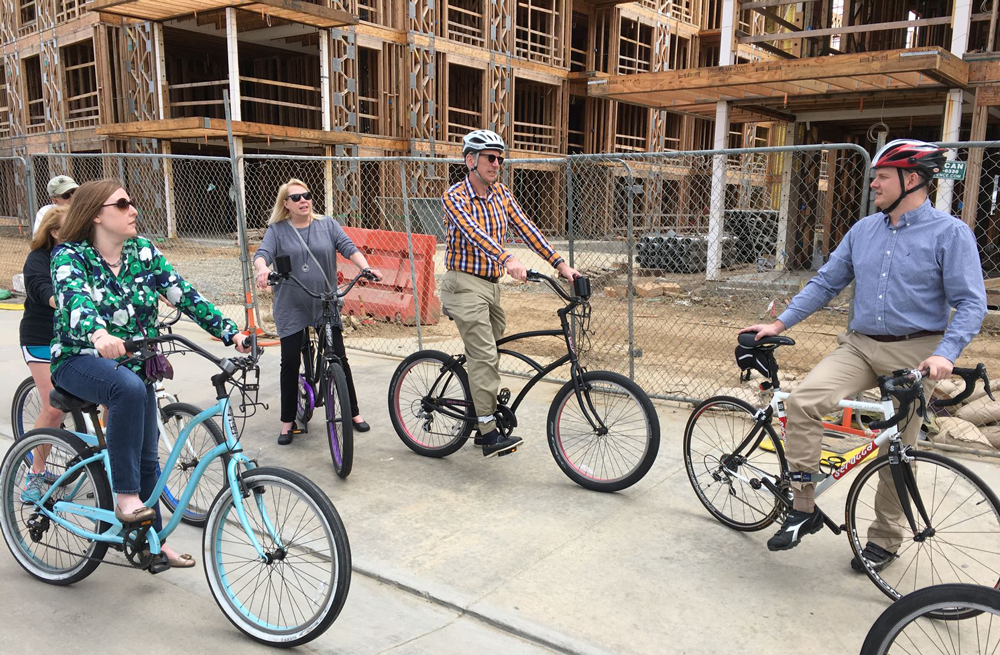 APA Louisiana Chapter
James Taylor, AICP
The Louisiana Chapter sends our warm condolences to the Jorgensen family and all friends and colleagues of Lynn. While I did not have an opportunity to meet Lynn in person, she was always, always, always patient and knowledgeable with me as I assumed new roles and responsibilities as an officer in my state chapter. Lynn was immensely helpful in advising and helping us to implement online registrations for our annual state conference, with consolidating officer elections, and with a hundred other details which we just didn't know how to handle. Others in the Louisiana Chapter knew Lynn personally and I regret that I did not have that opportunity. Filling her shoes will not be a simple task, more likely an impossible task, and I am indebted to her guidance and assistance during my six years serving as Information Officer to APA Louisiana Chapter.
---
Former APA Kansas Chapter Treasurer
Josh White, AICP
Lynn helped the Kansas Chapter many times while I was treasurer. I could always count on her to answer my questions in a timely manner. I never had the opportunity unfortunately to meet her in person. She was a very valuable asset to APA and to the Chapters, and will be missed! My prayers go out to her family.
---
Former APA Board Director
Chris McGetrick, FAICP
This is very sad news. I was so sorry to hear about her passing. Although I did not work directly with her on Chapters, I still talked with her a lot at APA conferences and knew of her good work through other APA leadership. My condolences to the APA staff.
---
Former APA Nevada Chapter President
Greg Toth, AICP
I'm so sorry. To/for everyone in the APA offices. My heart hurts to hear this. Lynn was absolutely wonderful and beautiful, and I loved working and interacting with her through the years. Prayers for all of you.
---
Former CPC Vice Chair, Secretary/Treasurer; former APA Massachusetts Chapter President
Peter Lowitt, FAICP
Ever helpful, with a twinkle in her eye and a laugh on her lips is how I choose to remember her. All chapter presidents knew how useful and crucial Lynn was to the successful functioning of the CPC. Our dance contest will never be quite the same. I am richer for having known her.
---
Former APA Iowa Chapter President
John T. Peterson, PE, AICP
So sorry to have learned of Lynn's passing. What an incredible person and resource for APA leadership. I worked closely with Lynn on so many things during my APA Iowa Chapter Presidency (2008-2010) and for several years after on CPC matters. She was a bright spot in the day and so incredibly helpful. RIP Lynn.
---
Former CPC Executive Committee member; Former APA Oregon Chapter President
Philip Farrington, AICP
I'm stunned and so saddened to hear of Lynn Jorgenson's passing. She was basically the first face of the organization that helped whip me into some kind of shape in a leadership role.
Lynn's lovely smile, great good humor and laugh, and overall demeanor was balm for those of us entering leadership roles so clueless and harried by our day jobs and other professional and personal responsibilities. She was the kind of person you enjoyed working with, and her reputation as the go-to person to get calm, capable assistance preceded her. Let's ask Lynn, was a common refrain for both the uninitiated and seasoned APA vets. The organizational efficiencies she helped develop and manage stand as a testament to her value within APA staff. Whether at conferences, leadership retreats, or other meetings in person or over the phone (pre-Zoom), Lynn was always available, helpful, personable, and selfless with her time and talents.
Lynn seemed so young, and so young in spirit, it seems inconceivable that she should pass before her time. I know she is missed by all who knew and cared about her, but it is also sad that future generations of APA leaders won't also have the good fortune to spend time with Lynn.
Please accept my deepest condolences, and may she rest in peace.
---
Former APA Iowa Chapter President
Erik Lundy, AICP
I was very sorry to hear about Lynn. Heartbreaking. To me she was the sunshine brought by staff to the Chapter Presidents Council. At the time I was a chapter president she would provide sound administrative advice to me and my small chapter and frankly help us out of a bind on occasion. If she didn't know the answer, she knew who did. She was always a joy to be around at leadership meetings and national APA events whether we were down to business, talking shop, or socializing. She was just so warm and generous on a personal level, which is a quality hard to find. I am really going to miss her.
---
Former APA Hawaii Chapter President
George Atta, FAICP
I am shocked and sad that Lynn has passed.  I am so sorry for the group at APA and my personal loss.  It is a professional and friendly loss.  I have lost a deep, deep friend. 
---
Former APA Florida Chapter President
Melissa Zornitta, AICP
I am so incredibly sad to learn of Lynn's passing. When I served as APA Florida Chapter President, she was an amazing resource to me and became more than just someone I worked with at APA but a friend. She was always willing to answer all sorts of questions and give advice. There were a lot of transitions and changes at that time; she was so helpful through it all. I remember being so excited to see her in person every year at the conference instead of just over the phone. She did so much for the organization, not just national APA but APA Florida. She will be missed.
My sincere condolences to her family and to her APA family.
---
Former APA Board Director, Chapter President, Division Chair
Mitzi C Barker, FAICP
Lynn Jorgenson was truly the "front door" to APA for generations of APA leaders. She provided a warm welcome to those new to leadership, or transitioning to a new position, along with friendly advice, navigating the often-fluid APA organizational environment, and never deflecting a question as trivial. Lynn epitomized the meaning of servant leadership, advancing our mutual cause with grace, humor, and humility.  Lynn was also a great listener, and she brought the ideas she gleaned from her many conversations with veteran and newer leaders alike into the processes that transformed APA's election processes, and support for volunteer leaders, and training. As a past chapter president, I was always confident in steering my successors to Lynn as they began their seasons of service in APA. On a personal level, I will miss her laughter and friendship. Peace to her memory.
---
APA Northern New England Chapter
Benjamin D. Frost, Esq., AICP
It's easy to take for granted people like Lynn.  People who quietly and efficiently go about doing their jobs.  I'd ask her a question, and she'd give me the answer — just like that. I'd ask her to help me with something, and she'd do it — just like that. 
For almost 20 years, I kept sending her these emails.  Sometimes, they were gripes and we'd commiserate a bit. But at the end, I think I almost always said "Thanks!" to her. 
I suggest we all remember Lynn by saying "Thanks!" for her gentle contributions to our lives.  And then say thanks to anyone else who like Lynn does their job with equanimity in the greatest sense of service.  We should all be so lucky to have people like her in our lives. 
---
Former Chapter Presidents Council Chair, and APA New Jersey Chapter President
Brent Barnes
I had the honor and privilege of more than two decades of Lynn's friendship and guidance. She had a heart of gold and infinite patience with all of the "energy" and tomfoolery of the APA Chapter Presidents that fate dropped in her path. To her, it must have felt a bit like the gerbil on the treadmill as new officers came on board, yet she always treated each, new and seasoned, with grace and equanimity. Lynn was a true professional, but more than a professional, she was a true friend. Her passing leaves an empty space in my heart, for sure, but more importantly and profoundly, a difficult to bridge chasm in APA's support for chapters. She will be missed.
---
Former Chapter Presidents Council Chair
John Bridges, FAICP
I was deeply saddened to hear of Lynn Jorgenson's passing, but I also had to smile because that's the effect she had on me every time I saw her beginning over 20 years ago when she first joined the APA staff. As she started her new job with APA, I remember that she was so concerned about being able to meet everyone's expectations. She was truly committed to her job and the people she worked with all of these years. We love and miss you, Lynn.
---
Former APA Colorado Professional Development Officer
Tareq Wafaie, AICP
I am saddened to learn of Lynn's passing. This must be a difficult time for those of you that worked alongside her. Lynn was instrumental in organizing our quarterly meetings for professional development officers (PDOs). When I served as APA Colorado PDO, I was able to reach out to Lynn on several occasions for assistance. Lynn was always happy to help, and did so with professionalism and friendliness. Although my interactions with Lynn were all by phone and email, I can imagine her warm personality shining through!! My best to her family and to her APA family. 
---
APA Missouri Chapter President
Hilary Perkins AICP
Lynn was a treasure and will be missed by our APA family. She was always so kind to me — helping me countless times as a clueless new chapter president. May her memory be a blessing to us all.
---
Former APA Colorado Chapter President
Stan Clauson, AICP, ASLA
Lynn's passing is a great loss for APA and the chapters.  She was always available and a big help to me when I was Colorado Chapter president.  Our best thoughts go out to her family and coworkers.
---
APA Florida Chapter Administrator
Alex Magee
I want to offer my sincere condolences to Lynn's family and her coworkers.  Lynn was a strong advocate for the chapters and always looked for ways to help the chapters succeed.  Through my position as Executive Director of APA Florida, I have know Lynn since 2007.  She always had a smile and a laugh when she saw you.  She was always quick to respond to any question you asked, no matter how minor or obscure. And her knowledge and records were amazing — I would ask her for something from two years ago and she would resend it as if she just sent it yesterday.  Her support to the chapter executive directors allowed us to network as a group and work together to share knowledge among ourselves.  This helped us all get stronger as chapters.  Lynn was a big part of APA.
I consider her to be a friend and I will miss her.
---
AICP President
Debbie Alaimo Lawlor, FAICP, PP
While Lynn worked closest with the APA Chapters, she was often involved in activities with the APA Board and AICP Commission. She was there to greet us for leadership registration at events and conferences with her bright and cheery demeanor, a big hug and a wonderful smile on her face. Lynn's dedication to APA and our mission will be greatly missed by all who knew her.
---
APA Colorado Chapter Administrator
Shelia Booth, AICP
Lynn was simply a rockstar. Throughout my time as a chapter administrator, Lynn helped me navigate the world of APA. She was quick to respond, gentle in her guidance and patient in her leadership. I always looked forward to a hug when I got to see her before CPC meetings during the NPC each year. And, occasionally having the honor of a nice lunch to catch up on APA and personal matters. She was a gem that's going to be hard to replace.
---
Former APA North Carolina Chapter President; Former CPC Executive Committee Member
Michelle Nance, AICP
As a younger chapter president, Lynn was so supportive as I transitioned into the role during a very dynamic time in the APA history.  We were implementing the first years of certification maintenance and rebranding all the chapters.  Communication from national to the chapters was critical and Lynn made sure that we had the tools needed to support our planning community. I so enjoyed working with her when on the CPC Executive Committee.  She planned all of our travel and chose the best cities and locations for our meetings. What a thoughtful and caring individual.  She will be missed!
---
Former APA Board Director; Former APA Mississippi Chapter President
Kara W. Drane, AICP
Lynn Jorgenson's work at APA touched the lives of so many chapter leaders. I was extremely fortunate to have the opportunity to know Lynn and work with her during my time in APA Mississippi chapter leadership. Lynn's approach to every issue was consistently positive. Often I would mention a chapter matter to Lynn and be uncertain on how to proceed. Lynn would always, without fail, be reassuring and provide direction that moved our chapter forward. I know without a doubt, the achievements our chapter made during those days would never have occurred without Lynn and her guidance.
Lynn's understanding of the diversity of all of our chapters and her ability to move all of us toward APA brand identity and consolidated elections says so much about her devotion to APA and our professional organization.
After my time in chapter leadership, I was always so happy to see Lynn at APA events. She often was quietly in the background, but her lasting impact on APA is profound. I was a better APA leader because of Lynn. I will miss her terribly.
---
APA North Carolina Chapter President
Bonnie Estes, AICP
It is with great sadness that the North Carolina Chapter of APA acknowledges the passing of Lynn. She assisted the chapter in countless ways. Always prompt with suggestions and with a friendly and helpful attitude. We will miss her. Our deepest sympathies to her relatives and friends.
---
Former APA Idaho Chapter President
Anna Borchers Canning, AICP
As a new chapter president of a brand new chapter, Lynn was my lifeline. She patiently answered so many questions, making me feel confident in what I needed to do. I could not have succeeded without her. My heart is broken.
---
Former APA Louisiana Chapter President
Ed Elam, AICP, PTP
My memories of Lynn extend back to the first time we met while I was working on committees as a chapter committee chair and officer and then again as chapter president. When I think of Lynn, resourceful, knowledgeable, guiding, and graceful are all words that come to mind. Having Lynn as part of your team meant you had a partner committed to success.
---
APA California Chapter Administration
Francine Farrell
It is with great sadness that I learned of Lynn Jorgenson's passing. What a shock! Lynn started with national APA around the same time I started working with APA California, and I was introduced to Lynn through my co-worker, Laura Murphy.
Lynn was our go-to person for all things membership-related that we could not find through normal channels. There was never a question she could not answer. If she didn't know the answer, she found it and always in a timely fashion. If we had a special request (e.g. lists outside the monthly membership update files), Lynn provided it ASAP. She was very patient with this chapter's needs. IMHO, Lynn Jorgenson was the jewel in the APA crown. Her invaluable work with the chapters will be greatly missed as will the occasions when we would have friendly banter.
Godspeed, Lynn. RIP ❤️
---
Former APA Utah Chapter President
Lani Kai Eggertsen-Goff
Lynn was such a joy to work with, she was always kind and patient with me. I feel so sad for your loss.
---
Former APA Idaho Chapter President
Patricia A. Nilsson, AICP
Lynn was incredibly helpful and supportive during the creation of the Idaho Chapter in 2007.  May her family find comfort in the memories of her kindness and support.
---
APA New York Metro Chapter President; CPC Vice Chair
Maxwell L. Sokol, AICP
I had the good fortune of getting to know and collaborate with Lynn over the past 3+ years in my role as APA NY Metro Chapter president and most recently as CPC Vice Chair.
I had a running joke with Lynn that she either had a twin or a clone because it was simply not possible for one person to be so on top of everything. It always astounded me when Lynn would respond to my emails within minutes given the fact that there were 46 other chapters that could be reaching out to her at the same time, not to mention her other responsibilities.
I am deeply appreciative of all that Lynn did to make my APA experience — and the experience of many other APA leaders and members — so rewarding and enjoyable, and I will miss her dearly in the months and years to come.
In my 10+ years of APA involvement, I have heard folks pose the question, "what does APA national do for me?" There are countless answers to this question, but one need look no further than Lynn Jorgenson, who worked tirelessly to support the 47 Chapters throughout the country for the betterment of our organization, our members, and the communities we serve.
Thank you for everything, Lynn. May your memory serve as a source of inspiration for all of us in continuing to drive APA forward.
---
Former APA New York Upstate Chapter President
Ellen L. Parker, AICP, LEED Green Associate
I want to add my consoldences for Lynn. To me, she was the face of APA. I started in chapter leadership as PDO, then president, now membership. In each role, Lynn was the face of APA to me, my most frequent contact and my most reliable source of information, support and encouragement. It is a huge loss to APA and to its members. I am so glad I got to know her, and my sincere condolences to her family and friends.
---
Former APA Arkansas Chapter President
Danielle Semsrott, AICP
I had the pleasure of working with Lynn as the APA Arkansas Chapter membership chair for several years. This led to two terms as chapter president. I was so happy to finally meet Lynn in person at NPC Seattle. Without even thinking I gave her a big hug, which she returned! She was so nice, responsive and helpful. I genuinely looked forward to visiting with her at CPC leadership meetings. She will truly be missed!
---
Former APA Tennessee Chapter President
Steve Foote, AICP
I am so sorry to hear of Lynn's passing. She was so helpful to me when I was chapter president in Alabama years ago. She was also so good to keep in touch with me and invite me to events for former chapter presidents. She was my ONE contact with APA. Wonderful person.
---
Former APA Meetings Registration Manager
Rosemary Regalado
I was fortunate to have worked with Lynn, who just happened to be one of those amazing individuals in this world. Lynn put in so many hours at APA, working long into the evening and weekends, providing 'knock your socks off customer service' both internally and externally. I would sometimes email Lynn late in the evening and she always replied and then we would laugh and say "what the heck are we doing?" Lynn always took the time to talk with me even though she had a timeline to meet. She knew when I was feeling out of sorts and always managed to shift my negative thoughts into positive ones in a heartbeat. Lynn made me laugh and I always felt better after talking with her.  I will forever remember her kindness and I am so glad we had that last hug before I retired.  RIP my dear friend, till we meet again.
---
Former APA Director of Meetings
Deene Alongi
Working with Lynn for over 17 years was a pure joy — always. In a world where dedication is so often overlooked or disregarded as unimportant, Lynn took her work with the APA chapters seriously and never missed a beat. Lynn Jorgenson was synonymous with the APA chapters in every sense of the word — whatever and whenever I needed her for information or had a question, she had the answer. Her thorough knowledge of each and every chapter always amazed me but that was just the way she worked her magic. Her loss to me is immeasurable in so many ways. We will not see the likes of her again.
---
Former APA Director of Education
Carolyn Torma
Lynn Jorgenson was a remarkable colleague. Her knowledge and insight into the APA chapters and the work and challenges of the chapter officers was her great contribution to the organization and to planning.
Lynn was a private person and yet every conversation was livened by her humor, patience, and intelligence. She was also one of the most dedicated staff I have ever worked with. Everyone who worked with her developed a deep respect for her.
I am honored to have known Lynn and feel the loss.
---
APA Research Manager
Joseph DeAngelis, AICP
I started at APA in March of 2016, at a time when nearly the entire staff was at NPC. Thankfully my desk was right near the main entrance sitting just across from Lynn. Lynn was nothing but kind, welcoming, and down to Earth for as long as we were seat neighbors. She also had a fantastic wry sense of humor. We didn't work closely together very often, but at the times we did, she was a font of institutional knowledge and experience. I will truly truly miss Lynn.
---
October 7, 2020
---
---