Housing Scarcity Is Worse Than Ever
A new report quantifies the underproduction of housing region by region, confirming that the housing crisis is a national issue.
Communities all over the country are facing a hard fact: There simply is not enough housing for everyone who needs it.
The housing crisis has been acute in California and other coastal areas for years, but the underproduction of housing units is now a nationwide problem. Planners and other pro-housing champions are calling for federal action, including passage of the Housing Supply and Affordability Act, to support local zoning reforms that could help ease the housing crisis.
According to a just-released report from Up for Growth, sponsored by APA, the underproduction of housing units affects 47 states and Washington D.C., and its impacts are being felt in all kinds of places, from dense urban areas to small, rural towns.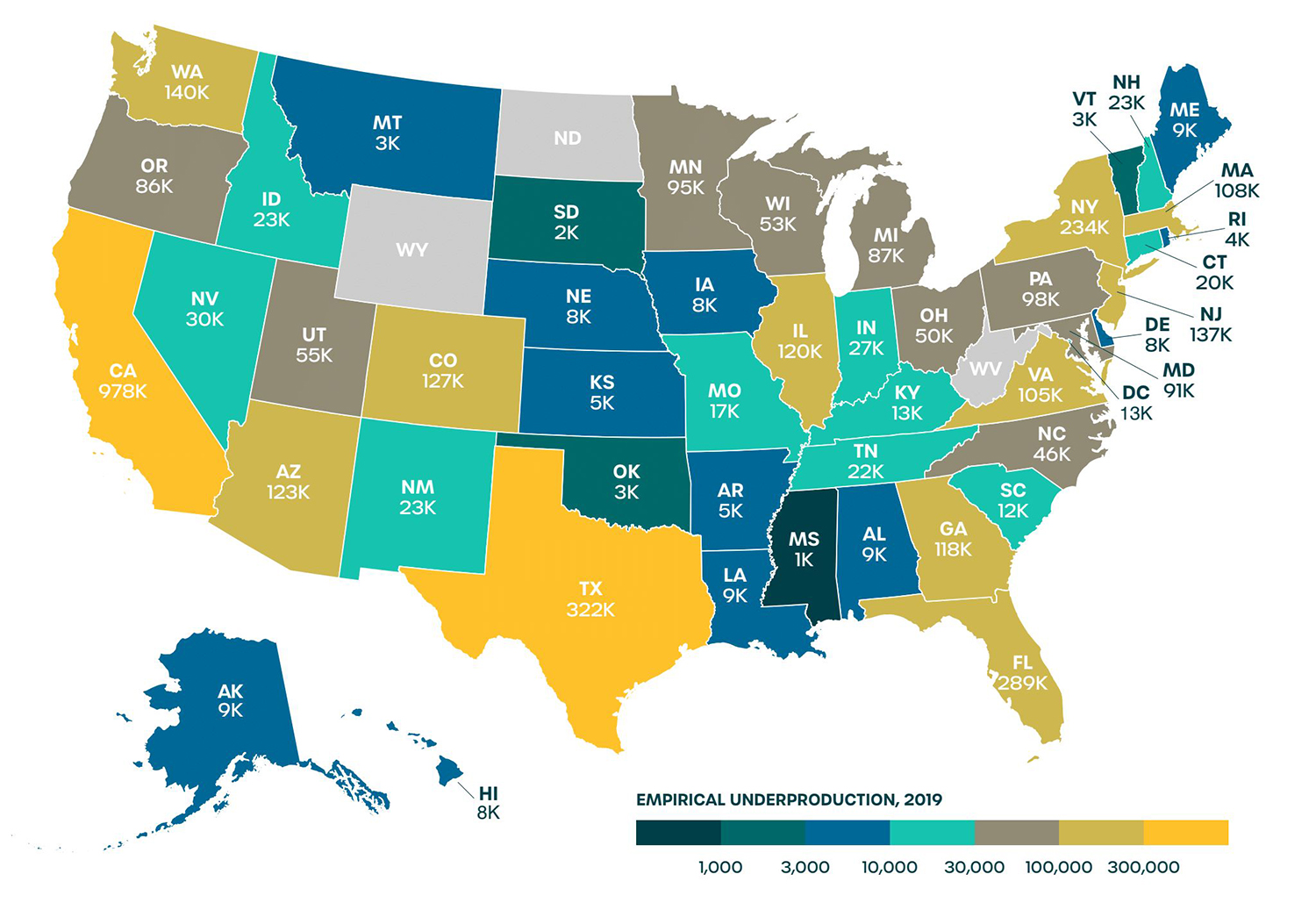 In all, the U.S. has a shortfall of 3.79 million units, according to Housing Underproduction in the U.S. And it's a problem that is only getting worse — and quickly. The current figure, based on 2019 numbers, is double the underproduction level of just seven years prior (1.65 million units in 2012).
The good news is that planners and others at every level of government are affecting change, largely through local zoning reform efforts that make building and preserving housing that is affordable to a wide range of people easier.
"Today's report makes clear that housing underproduction is a national problem, and it demands a national response," said Leo R. Asuncion, Jr., AICP, president of the American Planning Association. "Local zoning, code, and permitting reform — paired with investment in better planning — are essential to tackling our worsening underproduction crisis."
A housing crisis on your doorstep
The housing affordability crisis in Boise, Idaho, has been brewing for more than 20 years. There, as in other places, housing production has failed to keep up with the influx of new residents drawn to its outdoor lifestyle and economic opportunities.
The Up for Growth report notes an underproduction of more than 13,000 housing units in the metro area. To manage growth and mitigate high housing prices, local leaders added more housing, expanding out instead of up. But an expansion strategy has its limits. Beyond the obvious climate concerns from sprawling development, housing prices will eventually climb regardless of further attempts to expand.
The mobility of higher income households who could work from anywhere during the pandemic has made things worse, contributing to a 59 percent increase in home prices over 2019 and a 39.2 percent escalation in rents from March 2020 to March 2022, according to Zillow. "The COVID-19 pandemic accelerated migration to southwest Idaho, driving substantial household growth while simultaneously slowing housing production and considerably increasing development costs," noted Christopher Ptomey, executive director of Urban Land Institute's Terwilliger Center for Housing, in an essay included in the report.
But it is not just Boise. Almost 75 percent of U.S. metro areas are seeing worsening levels of underproduction of housing, the report notes. "Of the 309 metro areas in the U.S., 169 are underproduced, and 75 are trending toward underproduction."
Navigating change, one plan at a time
Still, there is reason to hope. Already, dozens of cities and a handful of states have changed their zoning rules by reducing or eliminating parking minimums, legalizing the construction of accessory dwelling units (ADUs), and increasing density.
"I have never felt more encouraged by and hopeful about the steps I see communities, states, and the federal government taking to modernize regulatory structures that have severely constrained housing supply and driven up housing costs nationwide," wrote APA president-elect Angela Brooks, FAICP, in Planning in June.
Even so, Congress can do more to empower planners to identify their housing challenges, improve affordability, and implement solutions to expand communities' housing supplies. The bipartisan Housing Supply and Affordability Act (S. 902 and H.R. 2126) is one way lawmakers can deliver critical support. The bill, which was shaped by APA, would provide both dedicated planning grants to help communities build out housing action plans and implementation grants to help them put plans into action.
Contact congress
Ask your Members of Congress to support the Housing Supply and Affordability Act by contacting them today.
The nation's worsening underproduction problem isn't going away anytime soon. But, planners can show leadership and build support now for pro-housing policies in the localities we support by leaning into our extensive land use knowledge, long-term view, and ability to make sense out of complex data. APA will be there to support you every step of the way.
Top Image:
---
About the author
Meghan Stromberg is APA's Editor in Chief.
---
July 18, 2022
By Meghan Stromberg
---
---